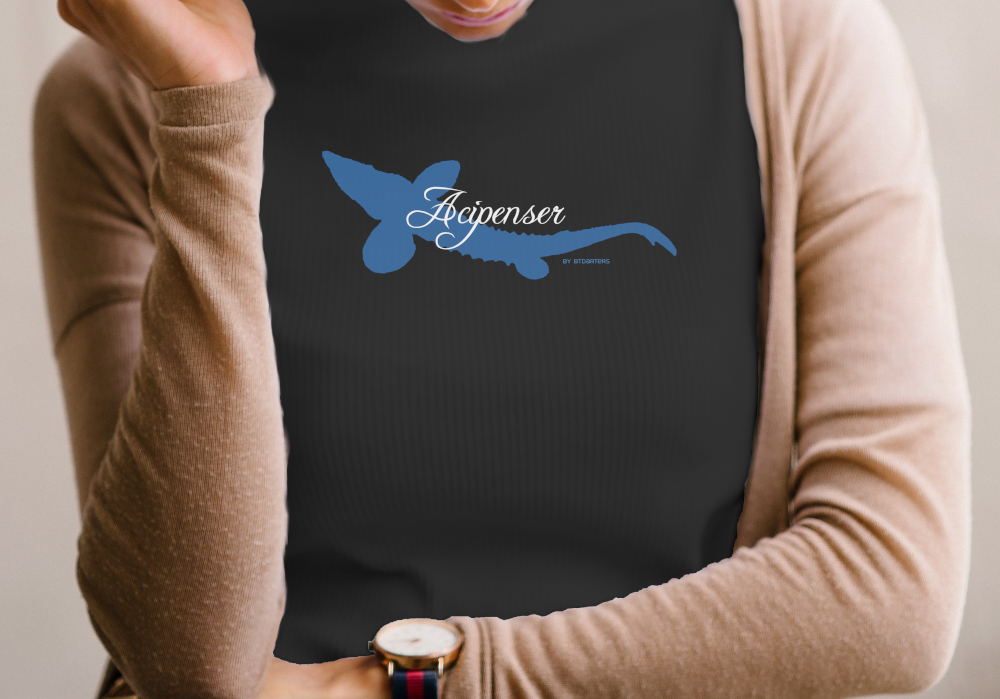 Two New Designs Available!! Sturgeon and Perch!!!! See How We Make Our Shirts!!!
The design above is called, "Acipenser by BTDarters." It's a new addition to our premium clothing and other merch line we're offering for the discriminating hobbyist!
Fishes of the genus Acipenser are sturgeons. This includes the Lake Sturgeon (Acipenser fulvescens) (the design above), the Shovelnose Sturgeon (Acipenser brevirostrum), and more!
Show off your love of all things Acipenser with this line of premium and comfort apparel, and other merch!
Check Out Our Acipenser Merchandise!!!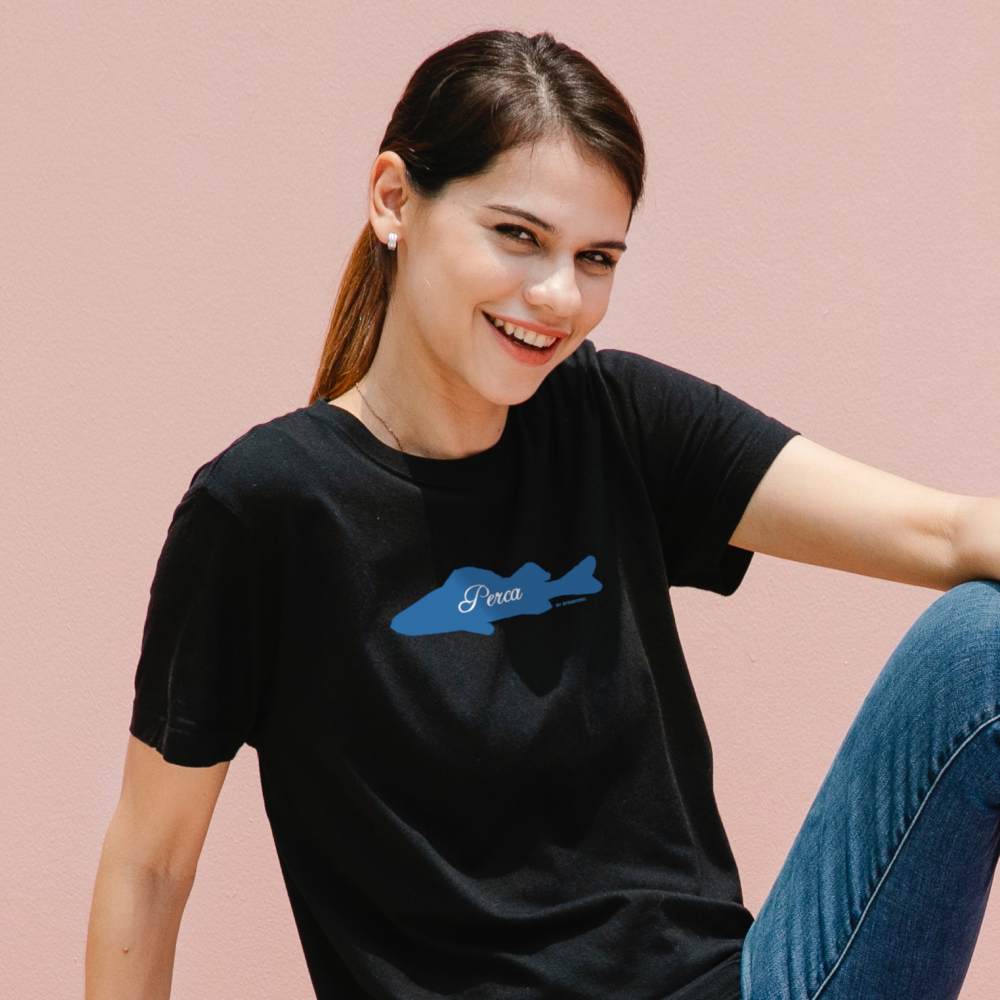 Love You Some Yellow Perch???
There is only one species of fish in the genus Perca, but it's a good one! Say hello to the Yellow Perch!
Many, many fishes in the U.S. are related to the Yellow Perch. In fact, all U.S. darter species are in the same family as perch. That family is called Percidae.
Show off some love of the beautiful Yellow Perch with this apparel and other merch!
Check Out Our Perca Merchandise!!!
Now What You've All Been Waiting For!!!
As promised, what follows is a brief tutorial of how we create our fish-design shirts! This is a very basic guide. The steps involved here may not seem like they would take a lot of time to perform, but all-in-all it takes about an hour to create a print-worthy design.
We wanted to show you our process because we think it's unique, and we thought you might appreciate that! With regard to other people copying our process, we aren't concerned about that. Many graphic designers could, and may even already do similar things. But our process is unique to us because we've been building up 20 years' worth of native-fish and habitat photos!
Please do note that we may leave out some steps in the interest of protecting proprietary information. But we've included everything here that we can.
So, here we go! Let's dive in!
Step 1.
First, we begin with a representative fish photo or photos, for the scientific genus that we want to make a design for. In this example, we are beginning with the photo of baby sturgeon, above.
That photo was taken by our founder and owner, Brian J. Torreano, in 2009. That summer, Brian volunteered on the 'Return the Sturgeon' project at Riveredge Nature Center in Newburg, WI. That project is a joint venture between Riveredge and the Wisconsin Department of Natural Resources (DNR), to return a viable, spawning population of Lake Sturgeon (Acipenser fulvescens) to the Milwaukee River, and Lake Michigan.
Brian photographed the three sturgeon, before he released them into the Milwaukee River. Yes, they are small. That's a one-gallon ice cream bucket they are in!
Step 2.
In the next step, we import the photo or photos into an image-editing software called, "The GIMP." The GIMP stands for GNU Image Manipulation Program. This is a free software that anyone can download from the internet. We've been using this software for 17 years. And because it's free, we enjoy not paying a monthly arm-and-a-leg to the Adobe company!
The photo above shows the image as it appears in The GIMP.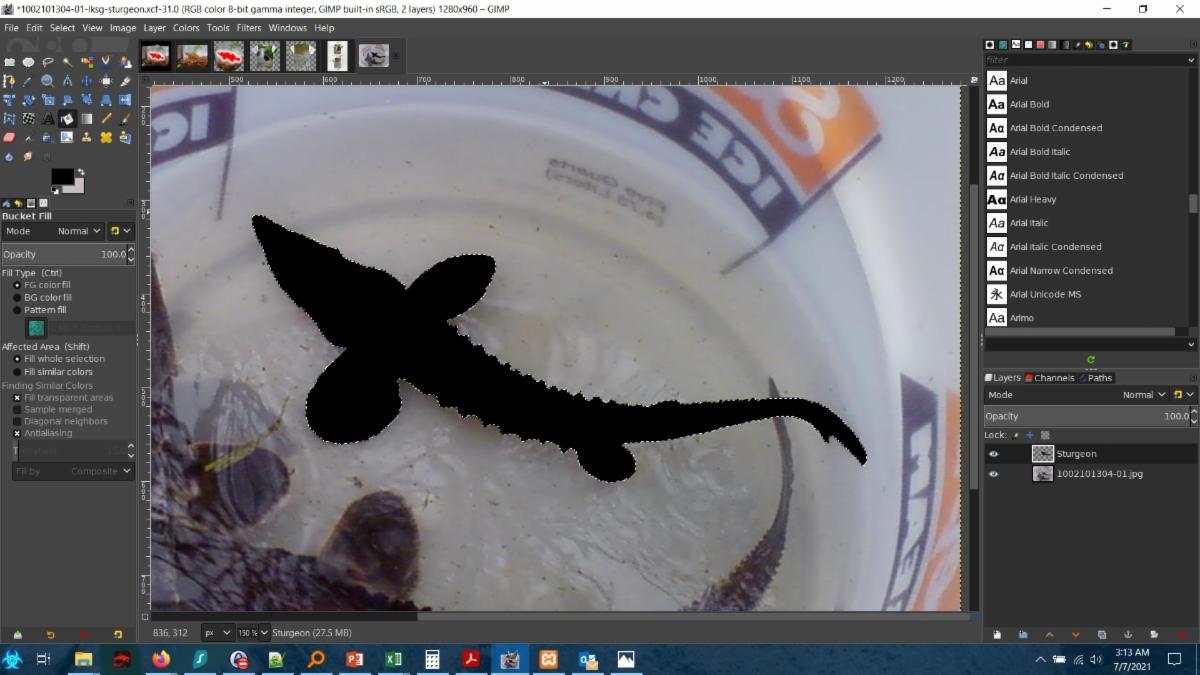 Step 3.
The next step involves something called, "masking." Basically what that means is that we cover the area of the photo that the fish is located in with a solid color. By covering the area with one color, we get a clear silhouette of the fish, which we can export to our illustration software later.
The photo above shows the image as it appears when the fish is "masked."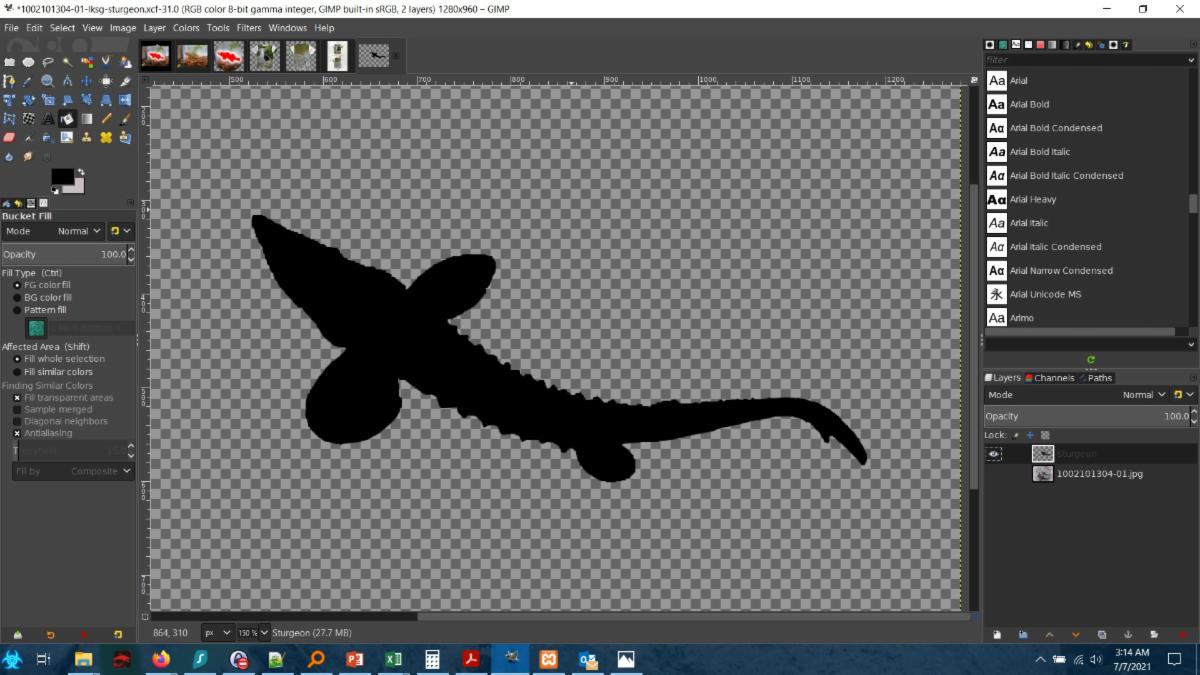 Step 4.
After masking, we remove the background from the picture. Because we previously separated the silhouette from the rest of the image, all that now remains is the masked area and a transparent background. The fact that the background is transparent is indicated by the checkerboard pattern.
This is now our general shape of the fish. We export this silhouette to a format that can be read by an illustration software.
Step 5.
This is honestly the quickest step of the entire process. In a PC illustration software, we change the color of the fish silhouette to our signature blue, add the text of the genus name, and re-export the result back to The GIMP. This step takes about five minutes.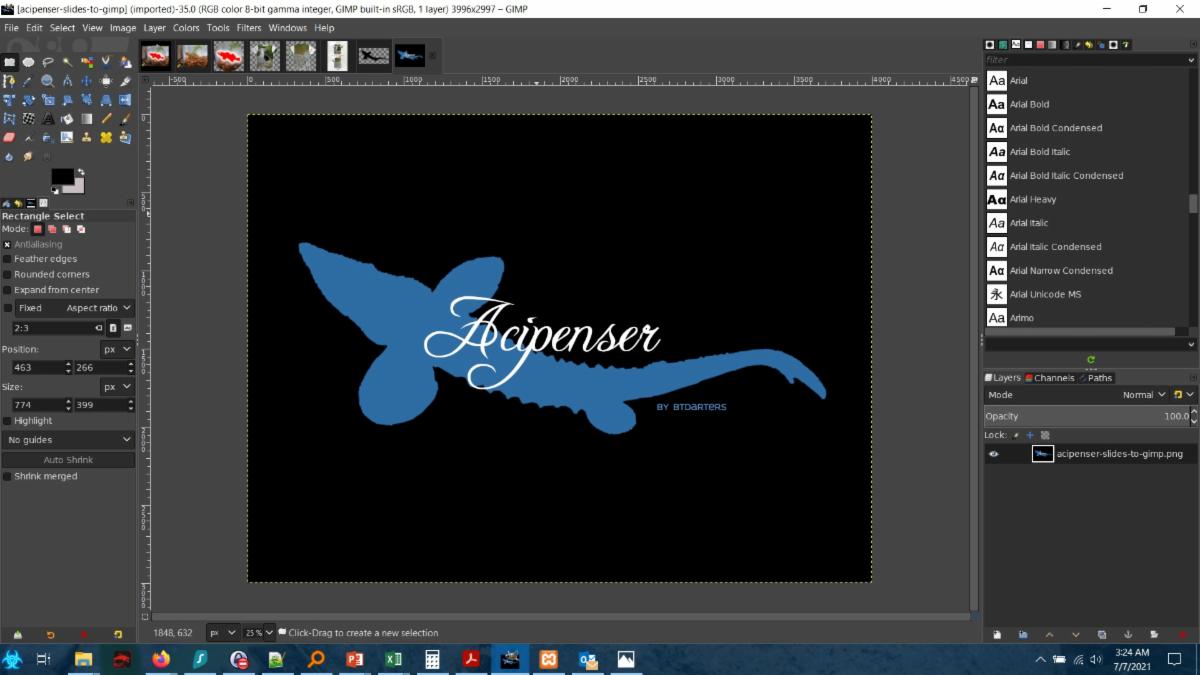 Step 6.
We bring the illustrated image back into GIMP. At this point, we have to remove the black background and export the result for printing. This is also a very quick step, as it is easy to remove a single color from an image in GIMP.
The exported image is now ready for prime time!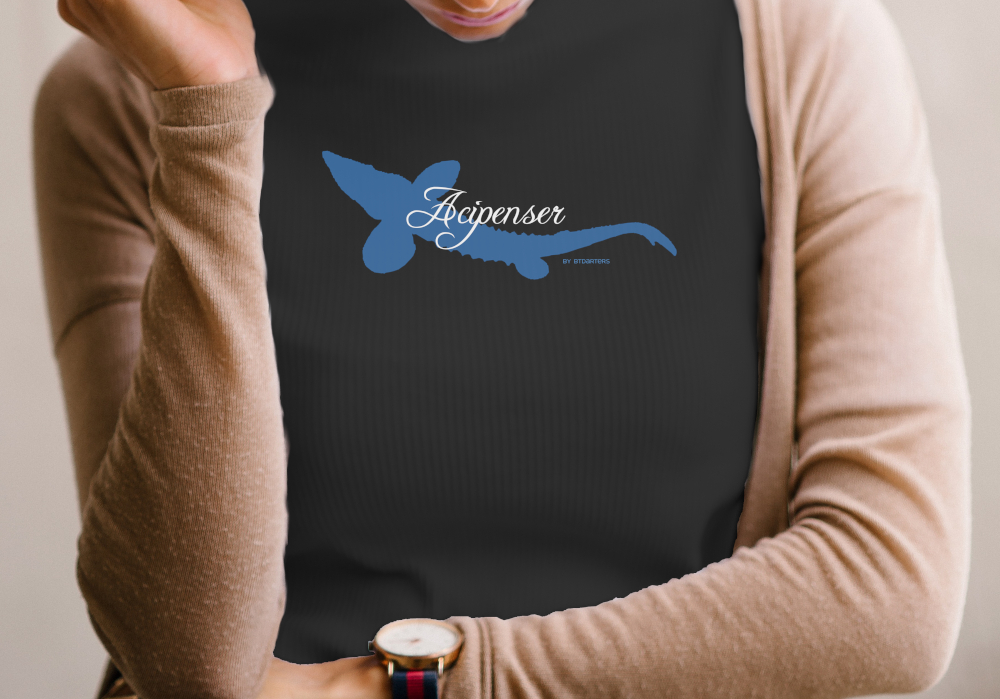 Step 7.
The design gets sent to the printer, shirts get printed and good-looking models show off our product! It's at this point we also send our designs to our print-on-demand specialist, Teespring (now called Spring), so that you can order some of our merch!
And that's it! Like I said, the process for each design takes about an hour! Thanks for reading our little tutorial, and if you have questions, please contact us. Again, we may not be able to answer all questions, in the interest of maintaining privacy on some of our proprietary steps. But we will answer all of the questions we can!
Thanks!
Check Out Our Acipenser Merchandise!!!
Don't Forget About Our Live Fish Sales!!!
Again, as announced in our previous newsletter, until 11:59 PM Central Time on July 31st, 2021, we are offering two sales on our live native fishes. The Collector's Choice sale, and 20% off of otherwise-purchased native fishes sale.
If you have questions about those, please contact us by clicking the green 'Contact Us' link below. If you're not sure if you'll be able to sneak in an order before the sales end, shoot us an email expressing your interest before the end time on the 31st. We'll make sure that you can take advantage of the sales!
Again, sales of native fishes are limited to state of Wisconsin, USA residents or businesses located in Wisconsin. Thanks!
Check Out Our Live Native Fishes Catalog!!!
Didn't Have a Chance to Browse Through Some Of Our Recent Emails?
All designs we currently offer are listed in our Merch store. Click the Merch Store link below to check it out!
Also, don't forget that you can shoot us an email to submit a request for merch!!!
Check Out BTDarters' Merch Store!!!
Contact Us About Other Designs, or to Submit a Request!!!
20 years in 2021!
Well, we hope you're enjoying our 20th year celebration! Thanks for your support for the last 20, and here's to 20 more!

Brian J. Torreano – Owner of BTDarters
American-Native Fishes for Your Aquarium!
– & –
Conserving Nature Indoors to Learn to Better Conserve It Outdoors™
Original Acipenser by BTDarters image Copyright Mentatdgt 2021. Used with permission.
Original Perca by BTDarters image Copyright Angela Roma 2021. Used with permission.
All designs and other content Copyright © Brian J. Torreano / BTDarters 2021. All rights reserved.